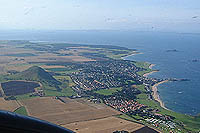 Since the railway line to Edinburgh was built in 1850, the town's golf courses, beaches, cliffs, seabirds, harbour, picturesque town centre, flat countryside and offshore islands have been popular with tourists from Queen Victoria to ex-President Clinton. Even before that, agriculture and fishing were far from the only activities. The rich history of North Berwick involves monarchs, christianity, the castles of Dirleton and Tantallon, and all sorts of other stuff from pirates to witches, lifeboats to lighthouses, golf clubs to aviation.
East Fortune airfield, formerly a Royal Air Force base and now home to the Scottish Museum of Flight (nms.ac.uk/flight), is one of the most historic aviation sites in Britain. As well as a busy military airfield, it was from here, in 1919, that the gigantic R.34 airship took off on the first ever direct flight from Britain to the US (Long Island, New York), a non-stop flight which took over a week. East Fortune also served as Edinburgh International Airport for several months in 1961 whilst the runway at Edinburgh's modern day airport at Turnhouse was closed for development work. There are annual summer airshows and perhaps in future it might be ideal as a municipal airport.
For a great gallery of North Berwick photos, check out: geo.ed.ac.uk/scotgaz/towns/moretpix281.html
The best North Berwick website may be found at: north-berwick.co.uk. Another good one, from the Community Council, is: northberwickcommunitycouncil.org, and you might also want to visit the Scottish Seabird Centre website at seabird.org.
If you still want more, check out David Henniker's Photos.
Should you want to read about the witches, dundee.ac.uk/~ehthomps/NBerwick.htm has fascinating material researched from the original 16th century papers.
Finally, the closest the town has to a local newspaper is the weekly East Lothian Courier (est. 1859), now online at .
Finally, check out all the local news via the North Berwick Conservatives on northberwickintouch.com, and the local newspaper, the weekly East Lothian Courier (est. 1859), at eastlothiancourier.com.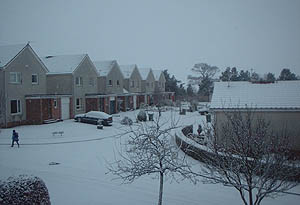 Summers are warm and sunny, and many winter days are also quite nice. They can often be dull and bleak though, and ever year or two there's some snow in south-east Scotland, as seen here on the street in which I live in February 2000.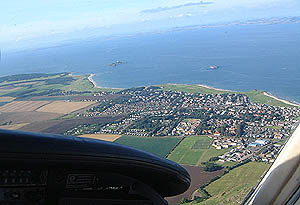 The west of North Berwick photographed in September 2002 from 2000ft above the Law, the town's 614ft conical volcanic hill (partly visible bottom-right), as I cruised overhead in a PA-28 Piper Warrier II (G-BIIT) from Dundee.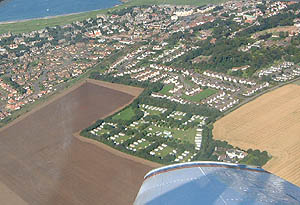 Circling over my neighbourhood at the western side of the town, with the caravan site at the foot of the photo, a modern housing estate on the left, the railway station and town centre at the top and the seaside golf course top-left.
Coordinates
56.03°N 2.7°W
Location
Forth coast, district of East Lothian, 25nm east of Edinburgh, Great Britain
Population
5,687 people...
plus 80,000 gannets
Founded
1373, created
royal burgh 1425
Main Industries
Agriculture, Fishing, Tourism
Castles
Dirleton, Tantallon
Notable Persons

King James VI (James I of England)

Saint Baldred

Queen Victoria

John Blackadder

Sir Hew Dalrymple
French pirates (1691-94)
Witches (1591)